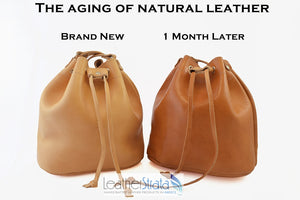 The aging process of natural vegetable tanned leather
When Vachetta leather is in its raw state, it is often beige or a kind of light brown, but it can be tanned. LeatherStrata vegetable-tanned leather is created in Greece using an entirely natural process that dates back more than a thousand years. Find it used in anything from our eShop: backpacks, messenger bags, travel and camera bags, sandals, etc. Vegetable tanning transforms raw animal hides into soft, smooth, durable leather of the highest quality, with unique characteristics.
The vegetable-tanning process was the original method developed to tan leather hides. It is more natural and environmentally friendly than "chrome" tanning, a cheaper, chemically intensive alternative that uses chromium sulphates and acidic salts to tan hides. While chrome tanning produces a similar look for leather in the short term, over time only vegetable-tanned leather will develop the rich patinas, soft hand-feel and unique fragrance for which it is so prized. Unlike chrome-tanned leather, vegetable-tanned leather is exceptionally durable – with the right care, it can last longer than a lifetime.
If you don't like the way the natural Vachetta leather is in its raw state looks, when you get it brand new, consider jump starting the aging process. The hide is effectively naked and so will age and darken with the sun just like your own skin. Aging will continue and will continually darken your leather. Normal wear will darken the leather as air, light, the oils of your skin, and other environmental factors do their work, eventually developing a rich color and patina. Sun exposure, daily handling, water, and conditioning give natural vegetable tanned leather a rustic look over time.
Your bag or sandals will be unique right from the off. As mentioned above our hides are completely natural so each one will be different. Just think of it like your own skin! There are scratches, stretch marks, blemishes and uneven colour patches in every vegtan piece. With regards to darkening that's "sort of" up to you. The more you use the piece, the faster it'll darken.
For the first month of actual use, avoid taking your bag out in wet weather. This should give the fibres sufficient time to become more flexible and therefore less likely to react to water.
If you want to treat natural leather you can use a conventional oily leather cleaner paste like this:
Order the leather care seal grease with Free Worldwide Shipping here
After the first month of use any spots of water or rain can be gently wiped into the leather, rather than allowing droplets to just sit on the surface. When your bag is new please be aware that excess dye may still be on the outside edges. If you wish to clean your bag, you can purchase a cream from various online leather care outlets, please ask if you'd like our suggestions. Always use a neutral, rather than a particular color (which will contain a dye) and test on an inconspicuous area of the bag.
Be aware that the leathers are dyed and as such for the first few wears they may transfer a small amount of color onto clothing. This is a typical characteristic of vegetable tanned leathers and will mean that your bag ages beautifully. 
---